uLesson Education Tab 2
Are you a parent looking for an effective and engaging educational tool for your child? Look no further: introducing the uLesson Education Tab 2! In this article, we will explore its incredible features and benefits. Let's dive in and discover why the uLesson Education Tab 2 is a must-have for your child's educational journey.
The uLesson Education Tab 2 is a dedicated, personalized learning companion for every child. With its empowering features and user-friendly interface, the tablet offers an engaging learning experience that combines adaptive learning, flexibility, interactivity, and excellence.
Also read: Five easy ways to help your child study at home
Features and Benefits
Watch Thousands of Video Lessons Without Internet Connection
One of the standout features of the uLesson Education Tab 2 is the ability to watch thousands of easy-to-understand video lessons without an internet connection. This means that your child can access a vast library of educational content anytime, anywhere, even in areas with limited or no internet access, enabling them to learn at their own pace.
Also read: 4 easy steps for creating a study timetable
Stronger Screen
The uLesson Education Tab 2 has a stronger screen that guarantees minimized chances of screen damage and an enhanced viewing experience for your child. This provides extra protection and peace of mind for parents concerned about their child's tablet's durability.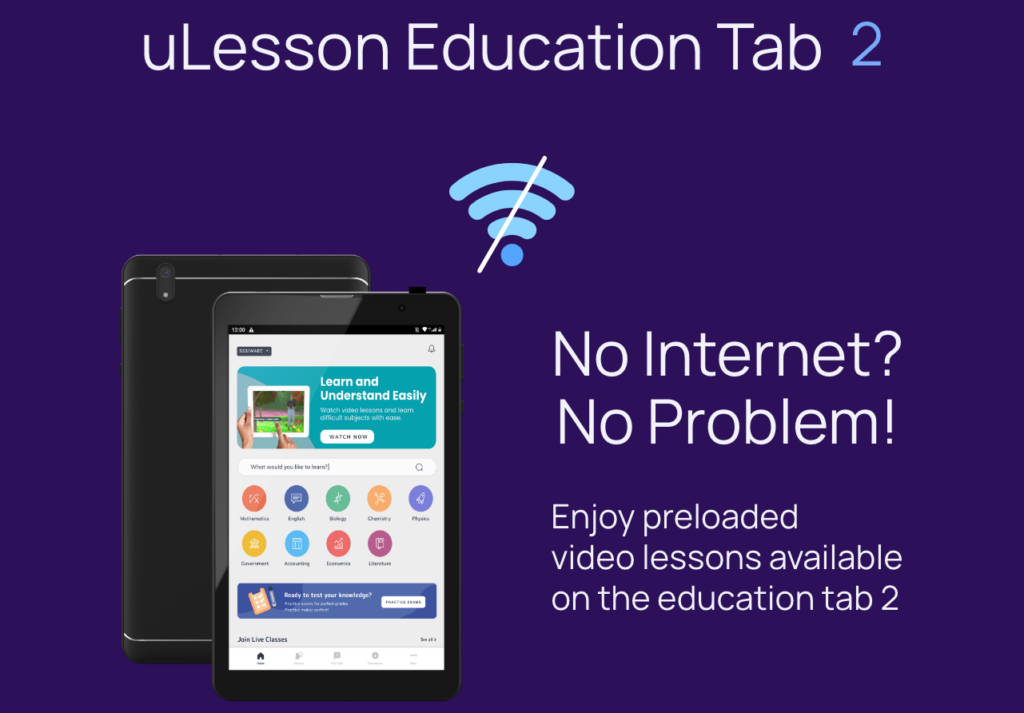 Lifetime Library Access
Getting a uLesson Education Tab 2 for your child provides your child with lifetime library access. This means that they can explore and revisit any lesson or topic from the extensive uLesson library at any time, throughout their academic journey. Learn more.
Screencasting to TV for Group Learning
The uLesson Education Tab 2 offers screencasting functionality, allowing your child to watch their video lessons and navigate other educational content on the TV screen. This promotes collaborative and interactive learning with siblings and friends, as everyone can participate in discussions and engage with the study content together. This also creates a shared learning experience.
Also read: How uLesson uses games to enhance children's academic performance
Faster Navigation Speed for Seamless Learning
With the uLesson Education Tab 2, navigating through lessons and topics is a breeze. The tablet is equipped with a fast and responsive interface, ensuring seamless learning without any lag. Your child can quickly switch between subjects and chapters or even search for specific topics, providing them with a smooth and efficient learning experience.
Also read: How to Buy Now and Pay Later with uLesson: Education Tab 2
The uLesson Education Tab 2 features, such as offline video lessons, a stronger screen, lifetime library access, screen casting to TV, and faster navigation speed, among other engaging features, make it an invaluable educational tool to enhance your child's academic performance.