Unlocking Cricket's Potential Through Quality Education
uLesson, being passionate about providing high-quality digital educational resources sees the need to help children unclog their potential in Cricket because the game helps to develop their motor skills, mental health, and cognitive reasoning. It also improves their fitness and social abilities. 
Due to its many advantages, countries across the world have embraced the game of Cricket, and are now extending its participation to children. For example, Ghana, Kenya, South Africa, Zimbabwe, and other African countries organize Cricket competitions for children to engage and help them get the most out of the game.
In Nigeria, the game is being deployed to help children unlock their potential in the strategic game, and attain mastery at it, for global relevance. The Nigeria Cricket Federation (NCF) is at the forefront of realizing this.
The President of the Nigeria Cricket Federation (NCF), Mr. Uyi Akpata, commented on how his team's goal is to reduce the number of out-of-school children and create employment opportunities for them.
"Our goal is to pull in over 250,000 kids into the game this year and we have officers in all the 36 states fully equipped to get that going. This Under-17 final is a product of all these officers' work in the past 12 months." Mr. Uyi Akpata stated this at the 3rd PwC National  Under-17 Cricket Championship for boys and girls.
uLesson's Sponsorship
In order to back the NCF's goal, uLesson is proud to be a sponsor of the 4th edition of the Annual National Cricket U-17 Championship.
Known for its cutting-edge technology and commitment to providing high-quality education to students in Primary and Secondary Schools, uLesson's support of the NCF's 4th edition Annual National U-17 Championship for boys and girls is a reflection of its dedication to promoting sports and physical education in Nigeria. uLesson believes that sports play a crucial role in the development of children, and providing opportunities for them to take part, is essential.
The U-17 Championship 4th Edition
The 4th PwC – NCF National U-17 Cricket Championship flags off 20th of January, 2023 with the zonal qualifiers taking place across all geo-political regions of the country. 29 states of the federation indicated interest in participating in the 4th edition of the zonal qualifier game.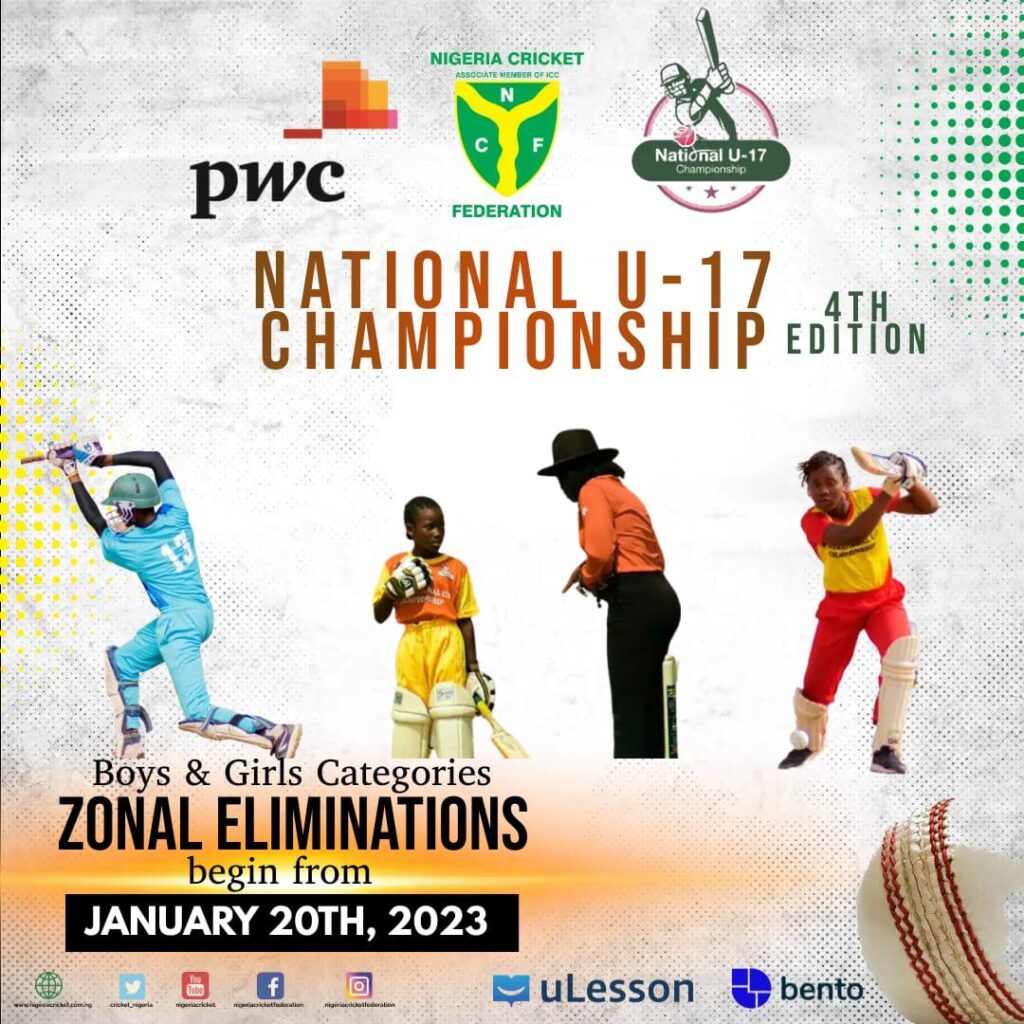 Each zonal qualifier game takes place across the country as follows:
In North Central, FCT will host Kogi, Kwara, Niger, and Plateau states.

In North West, Kebbi will host Kaduna, Kano, Jigawa, Sokoto and Zamfara States.

In South-South, Edo will host Rivers, Akwa Ibom, Delta, Bayelsa, and Cross River States.

In the South-West, Ibadan will host Lagos, Ogun, Ekiti, Ondo, and Osun States.

In North East, Gombe will host Taraba and Borno States.

In South East, Enugu will host Imo, Ebonyi, Anambra, and Abia States. 
The best team from each geo-political zone gets to represent the Zone in the National Finals, scheduled for 15th to 19th February 2023 in the Federal Capital Territory, Abuja, with South-South as the defending Champions.
The National U-17 Cricket Championship is a highly-anticipated event for young cricketers in Nigeria. It provides a platform for teams that made it through the regional qualifying zones to showcase their skills. The tournament is also an opportunity for players to be discovered by national selectors and earn a place in the national team.
uLesson's part sponsorship of the 4th edition of the Annual National Cricket U-17 Championship, and providing high-quality digital educational resources is a way of promoting sports and education in Nigeria and giving children the tools they need to succeed. As the tournament flags off on the 20th of January 2023, uLesson is set to significantly impact the young cricketers and the Nigerian Cricket Federation.
uLesson's Senior Vice President, Academics and Curriculum Development, Iheanyi Akwitti stated;
"Our goal, not only as a Company but also as a community of educators and parents is to produce well-rounded young people and to help all learners be the best version of themselves, and sports is one of the ways to achieve that."