How to Prepare for JAMB UTME
Every year, Nigerian students in their final year in senior secondary schools write a series of internal and external exams to prepare for entry into any Nigerian tertiary institution of choice. One of the exams written every year is UTME, popularly called JAMB. 
Is UTME the same thing as JAMB? This is one question often asked. For clarity, JAMB is an acronym for "Joint Admission Matriculation Board" that conducts UTME, an acronym for "Unified Tertiary Matriculation Examination."  Hence, JAMB is the body, while UTME is the examination.
In this blog post, we will be sharing noteworthy information you need to know when preparing to take a UTME. This information is vital to getting the score you desire to get into any Nigerian university of your dream. We have summed up questions often asked about UTME exams and this article is basically about answering them and shedding more light on them.
Things to Know About UTME
1. Who can take UTME?
Any secondary school student in SS3 or anyone with 5 credits in SSCE, including English and Mathematics, can take UTME. Because passing English and Mathematics are necessities, a number of students usually rewrite these subjects before writing UTME. To solve this problem, uLesson is helping students ace their SSCE exams in one sitting.
2. What is the UTME exam format?
UTME is a computer-based examination. Students sitting for UTME are required to write 4 subjects depending on their proposed course of study. The exam is usually 2 hours. For those writing subjects that require calculations, a calculator is positioned at the bottom right corner of the UTME CBT Environment.
3. What subjects are written in UTME?
Four (4) subjects are written in UTME. For any proposed course, a candidate takes four subjects that are relevant to their proposed course of study. An example is a science student aspiring to study Pharmacy. That student will need to register English, Biology, Chemistry, and Physics.
A commercial student aspiring to study Accounting will choose English, Maths, Economics, and Accounting. Your course determines your must-registered subject combination for the UTME.
4. Is English compulsory in UTME?
English is a mandatory subject in UTME. Whether you're a science, commercial, or art student, you will need to write it in UTME because the Use of English is dominant in all courses.
5. What is UTME Cut-off Mark?
A cut-off mark is the score range recommended by JAMB for tertiary institutions to use as a pass mark for prospective admission seekers in UTME before being qualified to write post-UTME or undergo screening exercises.  This scoring range varies among Universities, Polytechnics, Colleges of Education, and innovative enterprise institutions. Every year, cut-off marks are set before UTME is written.
6. What is the pass mark for UTME?
The pass mark for UTME is 180. But it is subject to change by JAMB, depending on the overall UTME performance for the year.
7. How many questions are set in UTME?
JAMB sets 180 questions in total. The Use of English is 60 questions while the other three subjects consist of 40 questions each.
8. How many hours is the UTME exam?
The UTME exam is 2 hours. Hence, all candidates have only 120 minutes regardless of the subject combination for any proposed course.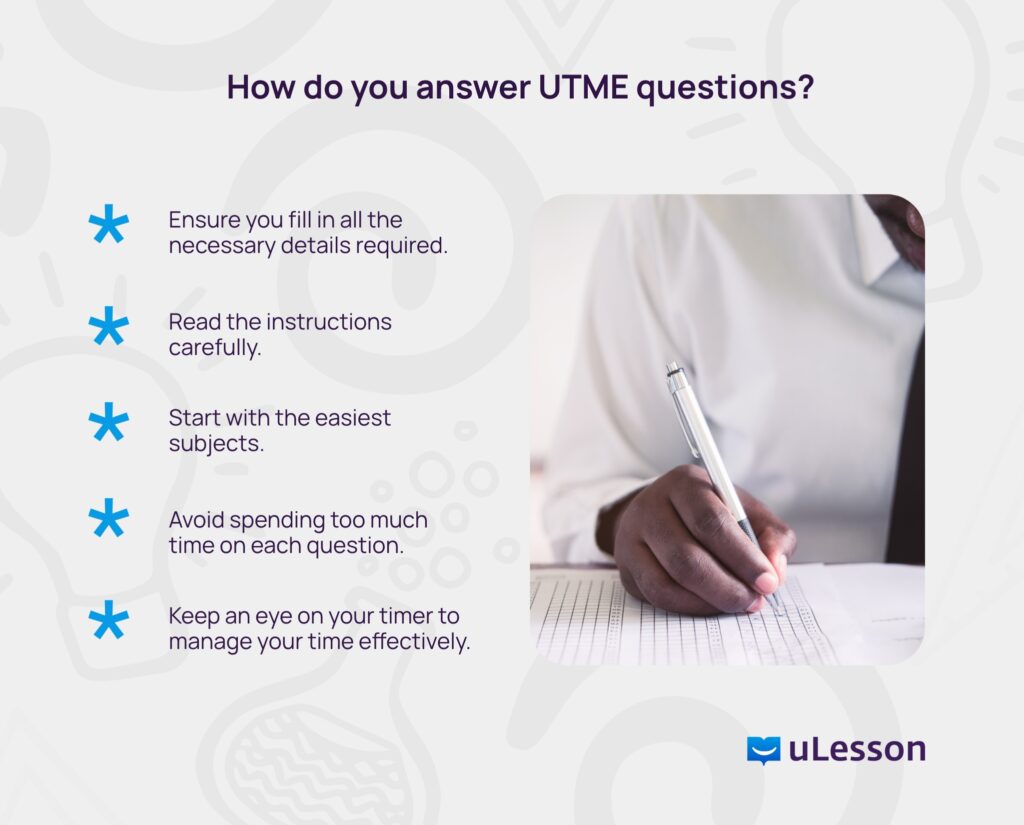 9. How do you answer UTME questions?
The best way to go about answering your questions in UTME is to:
Ensure you fill in all the necessary details required.

Read the instructions carefully.

Start with the easiest subjects.

Avoid spending too much time on each question.

Keep an eye on your timer to manage your time effectively.
10. Do JAMB repeat questions?
JAMB sometimes repeats questions in UTME but these questions are often tweaked every academic session, which becomes difficult for some students to answer. For this reason, uLesson has been helping students to enhance their ability to understand and answer these questions accurately in UTME, regardless of how it is tweaked.