Test your Readiness for School Exams with the uLesson Mock Exams
Constant testing of what children learn is a crucial part of the learning process. This shows them what subject/topic areas they have sufficient knowledge of, what they don't know, and what they need to work on. With this information, children are able to study better, and gauge how ready they are for exams before it becomes too late. These and more are why we are introducing the uLesson Mock Exams.
What is the uLesson Mock Exam?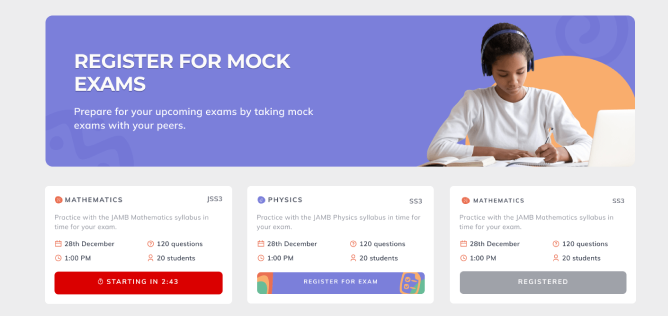 These exams are designed for learners to test their readiness for school exams or external body exams. They reflect an ideal exam environment, are CBT-based, timed, and are grade specific. Learners receive a detailed report on their performance and can get help via Live Lessons or Homework Help to tackle learning gaps.
They cover classes in Primary school, Junior Secondary School, and Senior Secondary School.#
Benefits of the uLesson Mock Exams
It reveals your child's area of strength.
It shows them learning gaps and recommends video lessons specifically targeted to areas of improvement.
It reduces exam anxiety for school exams.
It makes them more familiar and comfortable with Computer Based Test/Exam taking.