Great Benefits of Using uLesson to Prepare for UTME & Post UTME
The earnest desire of every aspiring tertiary student is to score high in their UTME and subsequently Post UTME. Achieving this is certainly not done with a floppy attitude toward preparations for the exams. A UTME candidate requires intentionality in making the necessary efforts to pass UTME and Post UTME. The tools or resources you use largely determine your performance. Hence, it's essential to choose credible and effective resources.
In our previous article, Chimeremeze, a UTME candidate shared how uLesson was an effective and splendid tool for his sister in the course of her preparation for her UTME. He stated; 
"This ulesson has been a tool of help to those who seek help because my sister prepared for jamb with it and scored a high mark and I BELIEVE that it will also help me come out in flying colours this year's UTME."
Aside from Chimeremeze's testimonial, other users have shared how uLesson helped them ace their UTME and scored high on the exam. Hence, preparing for UTME with an effective tool like uLesson is a giant stride to acing UTME and subsequently, Post UTME.
Eight (8) Benefits of Using uLesson
Here are some advantages and supports you will get when you prepare for UTME and Post UTME with uLesson as a round-the-clock go-to tool. 
1. Access to Over 10,000 Lesson Videos
When preparing for UTME, just doing a trial and error method of answering past questions without having a good knowledge of the topics, will leave you at the mercy of failure, when similar questions surface simply because you are ignorant of the basic concept of those topics.
uLesson as a learning tool has tons of videos that explain topics in different subjects in the most simple possible. Using uLesson to prepare for UTME, gives you confidence in answering similar and different questions on the same topic.
2. Helps You Answer Difficult Questions & Master Topics 
If you desire to steer clear of confusion because of ignorance during your UTME, then worry no more, because uLesson is available to help you overcome that confusion by providing round-the-clock accessible learning resources to help you understand these topics in the easiest and fastest way. uLesson also enables you to master past and possible UTME questions, with an existing feature that offers CBT practice Quiz sessions.
3. CBT Quiz Practice and Time Management
Having a CBT quiz experience is a way to relieve yourself of all the anxiety that comes with writing UTME, especially for the first time. Aside from that, uLesson's CBT quiz practice gets you familiar with question patterns and facilitates your time management skills, particularly when answering questions. Hence, if you need a tool to help you build effective time management skills for the forthcoming UTME, uLesson is waiting on you to render some help.
4. Interaction with Other Learners
One thing that fosters learning is interacting with other learners with the same goal as yourself: to ace UTME. Effective interaction in forms like sharing ideas, exchanging questions, and playing games around the topic/subject, will boost both learner's understanding and ability to answer various questions on the topic/subject.
The uLesson digital learning tool understand the effectiveness of this form of learning hence, it hosts features like the "multiplayer quiz" where UTME candidates get to play quiz game against themselves, and a host of other features to support your success in UTME.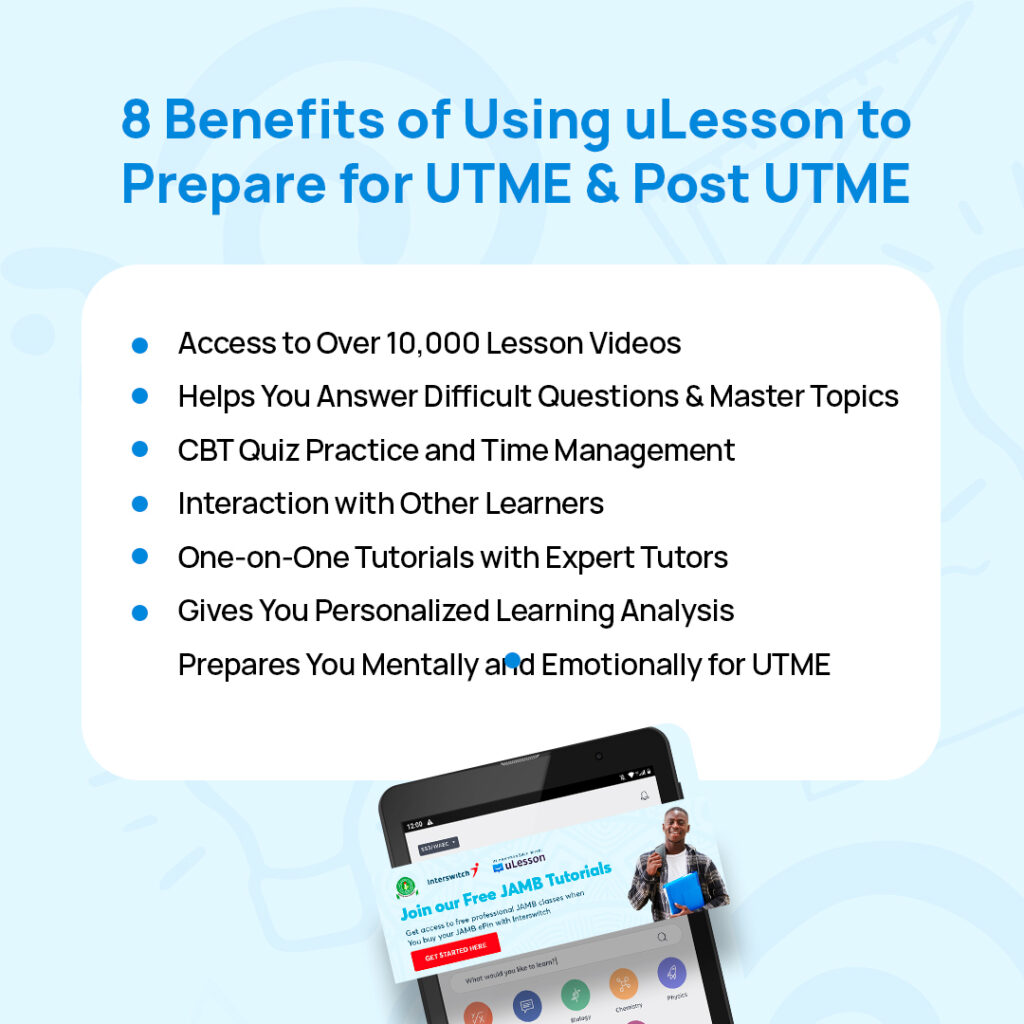 5. One-on-One Tutorials with Expert Tutors
With the uLesson tool, you get to reach out to expert tutors dedicated to giving learners the best. You have unlimited access to ask tutors questions and get a better understanding of topics in different subjects. 
6. Gives You Personalised Learning Analysis
Getting insight into your strengths and weaknesses in different topics/subjects sets you up for greater success. uLesson provides you with features that features that help you know how you perform you engage with.
7. Gets You Engaged on Social Media
uLesson also uses social media to provide all our learners preparing for UTME with tips for answering questions in UTME plus, other fun and edutaining snippets that support their success in UTME.
8. Prepares You Mentally and Emotionally for UTME
Mental and emotional preparation for UTME is necessary because no matter how well you are prepared for UTME if you are lagging in confidence, tranquility, or calmness before or during your exam, it will awfully affect your performance, and render all the effort you put into preparation, futile. 
To help address this, uLesson hosts a learning advisor feature that provides learning advice to learners to help them rid of negative vibes such as anxiety and low self-esteem.