Preparing for UTME in 2023
Passing UTME in Nigeria is a necessity as it is one of the determining factors for any individual that passed at least 5 subjects in their Secondary School Certification Examination (SSCE), including English and Mathematics; to gain admission into any tertiary institution in Nigeria
Being successful in UTME goes beyond having a good score or a generally accepted score. Your score in JAMB's exam goes a long way in determining whether or not you will be qualified to write a Post UTME, determine the school you get admitted into, and the course you will be offered admission to study. Every course of study has a cutoff mark for individual schools that is required by the respective schools to be scored in UTME by aspiring students. Getting below the cut-off mark will tick you off the list of persons qualified for either admission or Post UTME as indicated by the tertiary institution.
However, the joy hits differently when a UTME candidate writes and gets the score he aims at or gets the required score by the institution. Achieving these results can only be an intentional act that unclogs success. Staying committed to accessing and leveraging the necessary UTME resources can help you achieve these and more. 
Four (4) UTME Resources You Need
Every UTME candidate needs these necessary resources to excel in the forthcoming JAMB exam.
1. UTME Brochure and Syllabus
The brochure and syllabus are handy tools you can use to score high in UTME. These are highly recommended resources by JAMB. They give you a review of the subjects and the topics you need to focus on as you prepare for the forthcoming UTME. They also help you deduce the structure of UTME and what is required of you. 
2. UTME Tutorials Videos
Explanatory, engaging, and easy-to-understand videos are some tools that can help you excel in the forthcoming UTME. Extensively explained videos are a reservoir of good content that can speed up your understanding of a particular subject or topic. We created a resource center to cater to the needs of UTME candidates with easily understandable video lessons of concepts/topics in different subjects that cut across all the senior secondary school classes.
The uLesson video lessons have been recorded to be one of the best tools to use when preparing for UTME and a good number of previous UTME candidates that used it, attest to this on the basis of how it helped them score high in UTME.
On uLesson's resource center for UTME candidates, there is a provision for a feature that allows students to ask tutors questions that they face difficulty solving. Also, the resource center has a live lesson feature where you can join other students preparing for UTME like you, to master different concepts/topics.
3. UTME CBT Quiz Practice 
It's not enough to only study and neglect to have a fore-experience of what sitting for UTME feels like. Practicing  UTME CBT quiz comes with a good number of advantages. Some of these are time management, which helps you become more conscious of how you use your time in answering questions; it also improve candidates' performance in the forthcoming UTME: it helps student assess how well they perform under pressure, proffer solution to it and assist in alleviating their anxiety; another advantage is that CBT Quiz Practice help test the level of preparedness amongst candidates hence, identifying the subjects they need to give more attention to, before UTME.
Our resource center for UTME is equipped with a feature that allows UTME prospective candidates to take CBT Quiz Practice. Since the launch of our CBT Quiz Practice (tagged Mock Exams,) UTME candidates have been using it to prepare effectively for JAMB's exam. This has massively contributed to their success in UTME.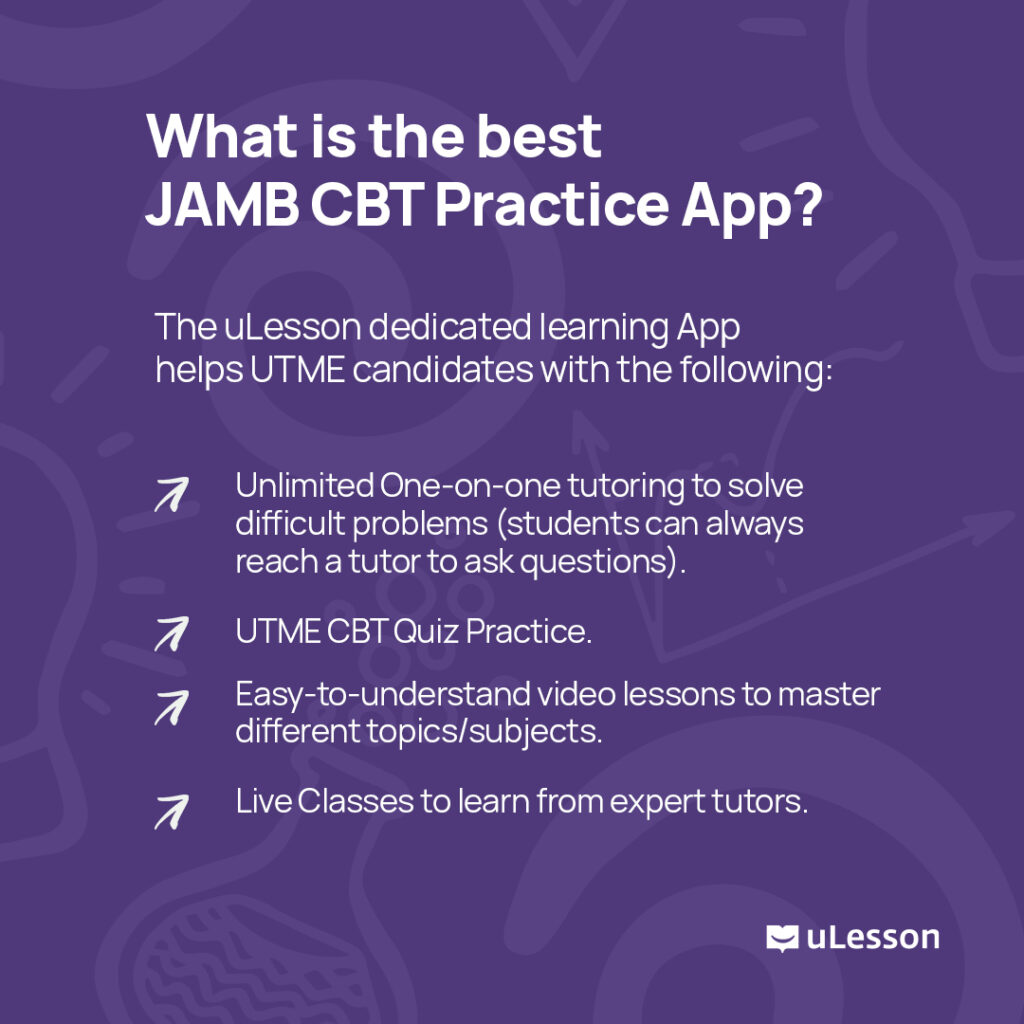 4. What is the best JAMB CBT Practice App? 
The uLesson dedicated learning App is an app that effectively prepares students for UTME. It hosts a variety of features that provide: 
One-on-one tutoring to solve difficult problems (students can always reach a tutor to ask questions)

UTME CBT Quiz Practice

Easy-to-understand video lessons to master different topics/subjects

Live Classes to learn from expert tutors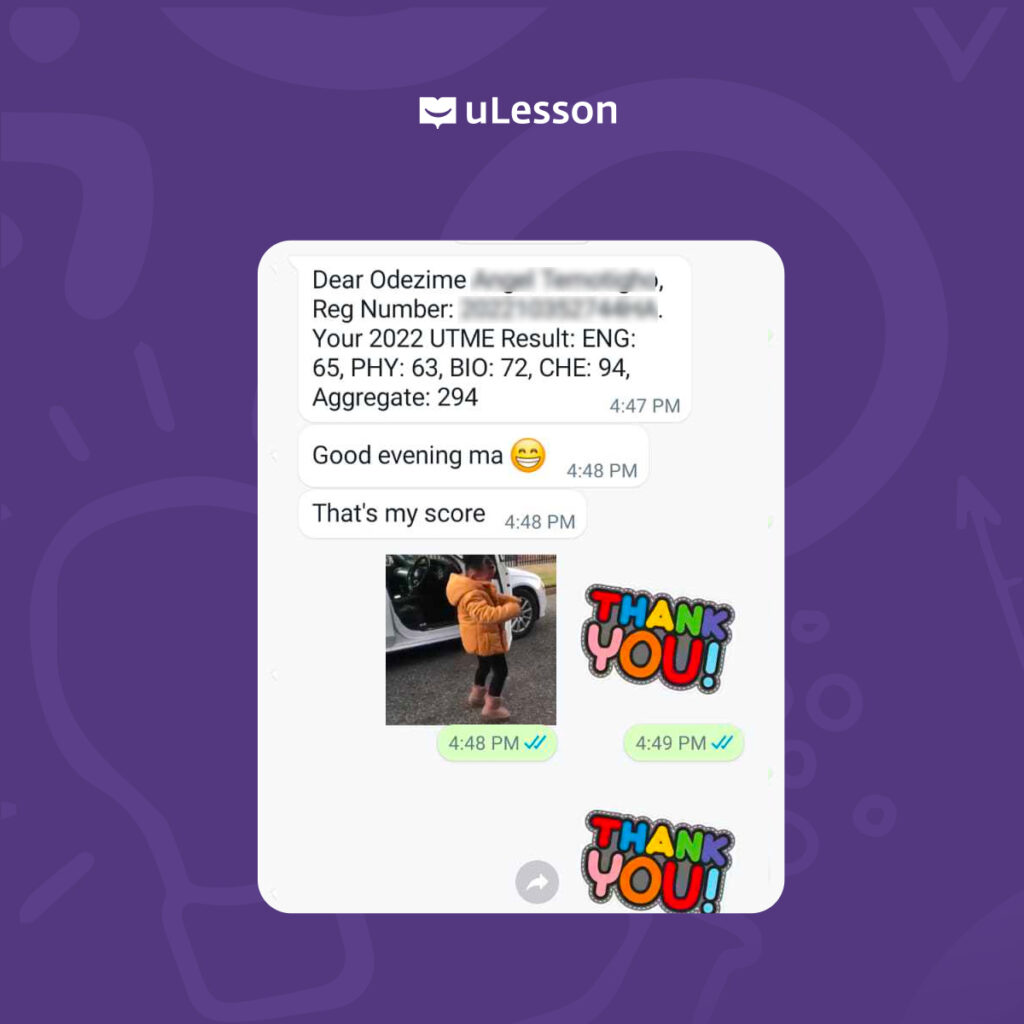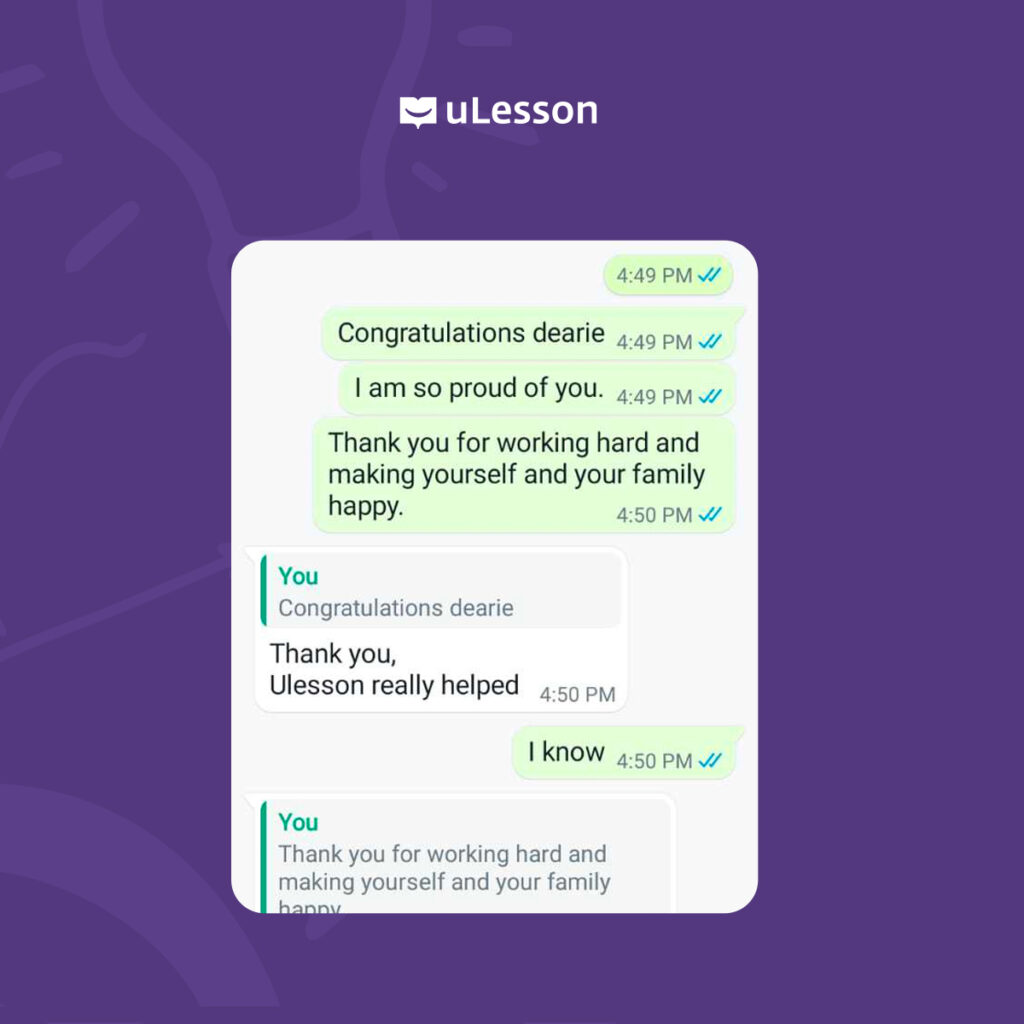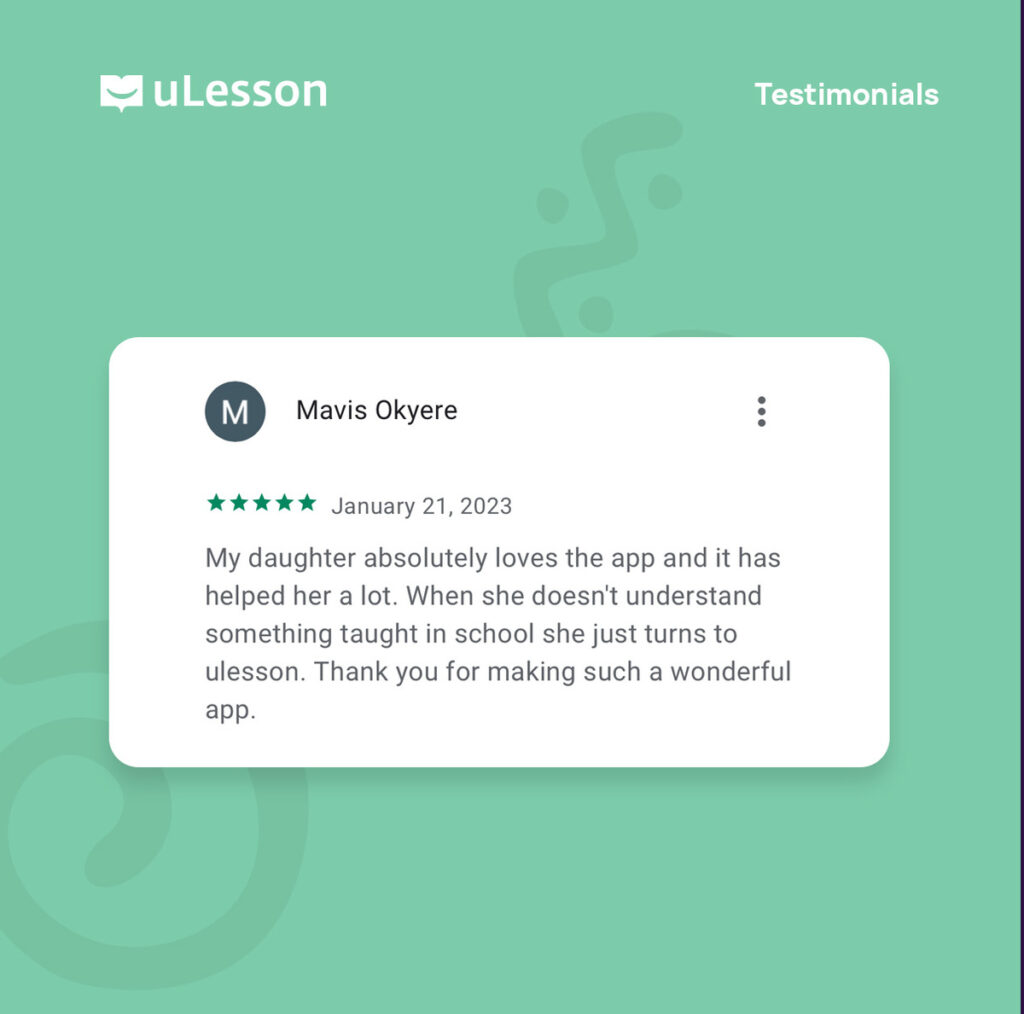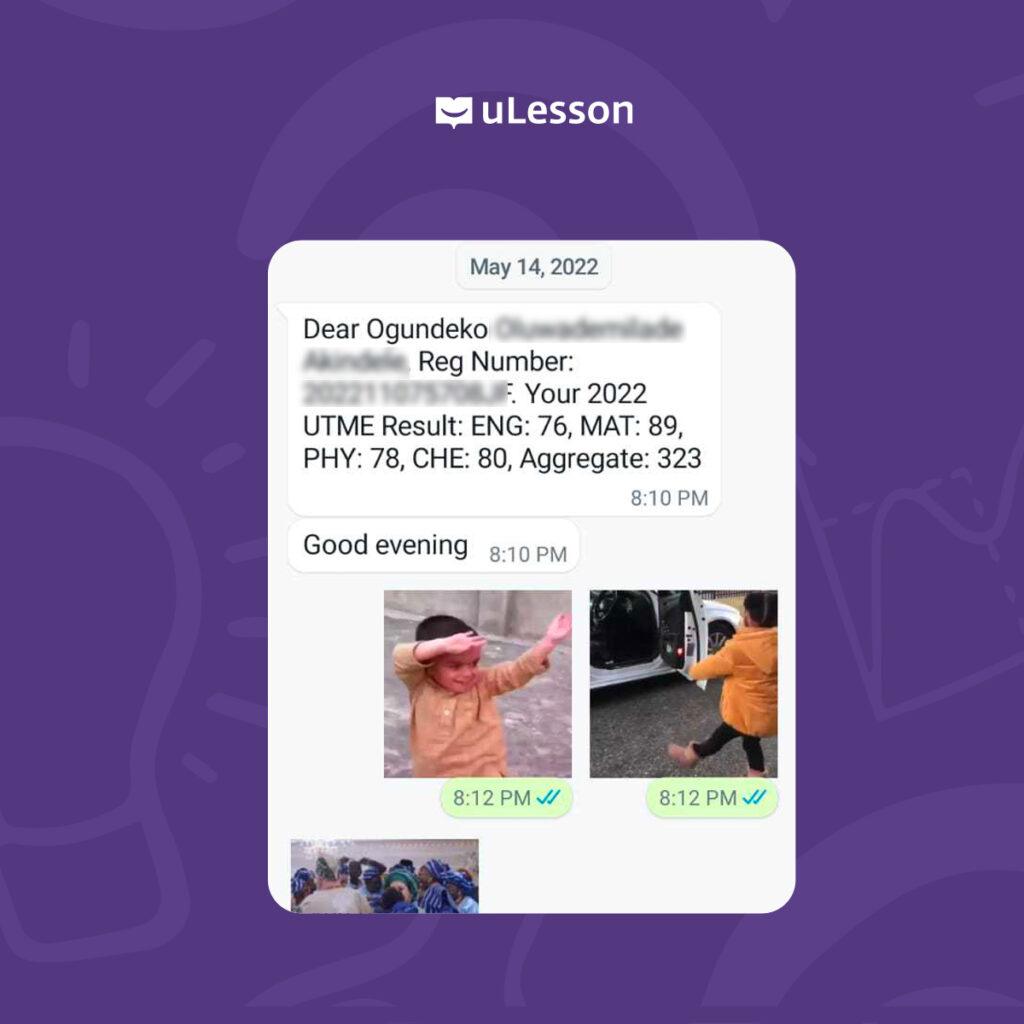 The uLesson App is a go-to tool to help candidates ace their forthcoming UTME. One of the determinants of the success of your UTME isn't the volume of material you study. Accessing and leveraging the right and effective tools/resources is a key determinant factor.
You need to also read: