How to Use uLesson to Pass WAEC in One Sitting
Students in senior secondary schools fear failing WASSCE/SSCE, NECO, or other national exams because of how significant it is. Students' performance in WASSCE is greatly determined by the resources or tools they use. Therefore, it's necessary to use reliable and relevant resources when preparing for WASSCE. The uLesson app has been a helpful and handy resource for students especially those preparing for exams like WASSCE/SSCE, NECO, and other national and international exams.
1. Access to WASSCE-Focused Lesson Videos
Engaging in trial and error method of answering WASSCE past questions without having a good knowledge of the topics, will leave you at the mercy of failure when similar questions surface in WASSCE.
Also read: Pass WAEC/NECO with these 7 tips.
uLesson as a learning tool has tons of videos that explain topics in different subjects in the most simplest way possible and this helps you master the basic concept of those topics. This boosts your confidence in answering similar and different questions on the same topic.
2. Helps You Solve Difficult Questions & Master Topics
Being confused in the exam hall because of ignorance during your of a particular topic can affect your state of mind in WASSCE. uLesson helps you overcome confusion in the exam hall by providing round-the-clock accessible learning resources to help you understand these topics easily and faster. uLesson also helps you master past and possible WASSCE past questions, with an existing feature that offers practice Quiz sessions.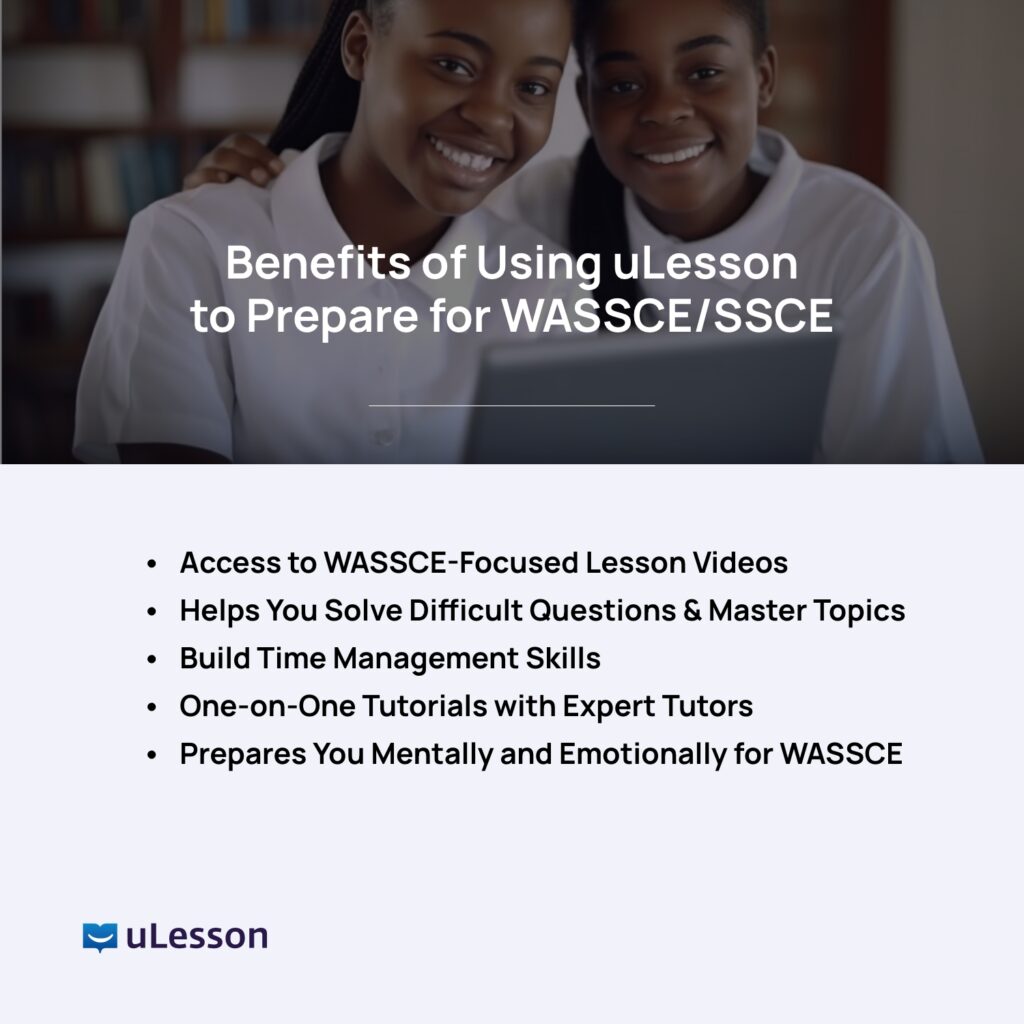 3. Build Time Management Skills
Using uLesson to prepare for WASSCE gets you familiar with question patterns and facilitates your time management skills, particularly when answering questions. Hence, if you need a tool to help you build effective time management skills for the forthcoming WASSCE, uLesson is on the go to render you some help.
Also read: Gain admission to study your preferred course with these 7 tips.
4. One-on-One Tutorials with Expert Tutors
With uLesson as a learning tool, you get to reach out to expert tutors dedicated to giving learners the best learning experience as they prepare for WASSCE. You also have unlimited access to ask tutors questions and get a better understanding of topics in different subjects when using uLesson.
5. Prepares You Mentally and Emotionally for WASSCE
Mental and emotional preparation for WASSCE is a necessity. No matter how academically you are prepared for it, if you lag in confidence, tranquility, or calmness before or during your exam, it will awfully affect your performance, and render all the effort you put into preparation, futile.
To help address this, uLesson hosts a learning advisor feature that provides learning advice to learners to help them get rid of negative vibes such as anxiety and low self-esteem.